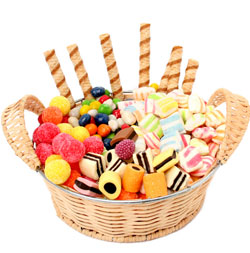 It's that time of year again! Have you started shopping for your loved one's 6th wedding anniversary gift yet? If not, don't worry! We've got you covered with a range of gift ideas that are sure to please.
When it comes to choosing the perfect anniversary gift, it can be helpful to think about the traditional, modern, and gemstone themes associated with each year. For the 6th anniversary, the traditional gift theme is candy or iron, the modern gift theme is wood, and the gemstones are amethyst and garnet.
Traditional Wedding Anniversary Gift List
Candy
The traditional 6th anniversary gift is Candy or Iron.
Using Candy as a Gift theme
Is your spouse a sweet tooth? Then you may want to consider giving them a delicious treat for your anniversary. Ideas include everything from gourmet chocolate bars to gummy bears. You could also go for a classic candy like Hershey's Kisses or Sour Patch Kids. If you're feeling really creative, you could even make your own homemade candy!
Gift Ideas based on Candy
Candy Hamper
Retro Candy
Sweet Prosecco Hamper
Personalized Gourmet Chocolate Bar
Love Hearts
Iron
Iron is an alternative traditional gift theme for the 6th Anniversary mentioned. There are two different materials as the traditional list differs from publication to publication we've included the variations as it gives an alternative choice for your anniversary.
Using Iron as a Gift theme
Not interested in sweets? There are plenty of great iron-themed gifts out there as well. For example, you could give your spouse a wrought iron candle holder or an iron-on patch. Or how about an "I Love You" keychain made of iron? No matter what you choose, your spouse is sure to appreciate the thoughtfulness of a traditional gift.
Gift Ideas based on Iron
Iron Love Heart Trivet
Iron Sculpture
Iron Candle Holders
What is the Symbol for 6 years of marriage?
The symbol for the 6th wedding anniversary is actually based on the traditional gift theme. In this instance, Candy so it is often referred to as the Candy Wedding or Candy Anniversary.
Modern Wedding Anniversary Gift List
Wood
The contemporary or modern theme of the 6th wedding anniversary is wood. Now, this is similar to iron in the notion that it is solid, looks fantastic and has many uses. Similar to your love for one another, it will be different to others but very similar too. It will be long-lasting and durable and in terms of 6th wedding anniversary gifts, you have a wide range of presents to choose from.
Using Wood as a Gift theme
Wooden gifts help you bring a piece of nature into the home and look rustic, beautiful and are a far cry from synthetic items. There are some amazing creations out there and talented craftsmen that can really make something special for your anniversary.
Another great modern 6th anniversary gift idea is a bamboo product, which is also classed as wood. Bamboo is one of the fastest-growing plants in the world, which makes it a symbol of strength and growth— two things that are essential to any marriage. Plus, bamboo products are environmentally friendly and stylish, which makes them a win-win! Popular bamboo gifts include bath mats, jewelry boxes, and serving platters.
Gift Ideas based on Wood
A handcrafted wooden jewelry box – this jewelry box you can personalize with a special message from you to your loved one. Fill it with their favorite piece of jewelry to make it an extra special gift.
A carved wooden frame – this beautiful frame is ideal to display a special photo from your wedding day or any other significant moment in your relationship.
A custom wooden cutting board – this unique cutting board engraved with your names, initials, or a special message is ideal. It's both functional and beautiful, and it will make meal prep that much more enjoyable.
Wooden cufflinks – these cufflinks make a great gift for him and can wear them on any occasion, whether it's for work or a special night out.
A wooden watch – this classic and timeless watch makes a great gift for anyone who loves fashion and function.
Personalized Wooden Picture Frames
Popular bamboo gifts include bath mats, jewelry boxes, and serving platters.
Gemstone Wedding Anniversary Gift List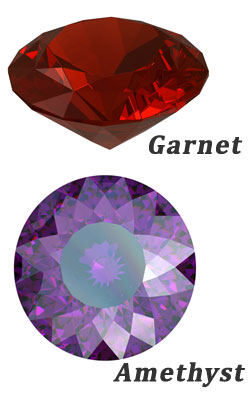 The gemstones that are associated with the 6th wedding anniversary include garnet and amethyst. The former comes in almost every color available and is sparkly, beautiful and used in many jewelry. It's generally dark red in color which is warm and lovely, but there are many other colors too.
Amethyst
Using Amethyst as a Gift theme
Amethyst is more known than garnet and has been used in jewelry items for many years. It's purple or violet colors are magical and really make a difference compared to other gemstones.
For your wife and with the gemstone associated with the 4th wedding anniversary it is a natural gift choice. So why not give her a piece of jewelry featuring this beautiful stone? Whether you opt for a necklace, earrings, bracelet, or ring (or all of them!), she's sure to appreciate the thoughtfulness of this gift. You can find amethyst jewelry at most major jewelry stores – try browsing online to see what's available before heading out to shop. And don't forget to keep the receipt in case she wants to exchange it for something else!
For men there are still options available if you would like to commemorate your 6th anniversary with Amethyst. An Amethyst Church or Cathedral and be a great statement piece or alternatively at the other end of the scale you can get simple keyrings containing amethyst.
Gift Ideas based on Amethyst
Amethyst Church/Cathedrals
Eternity Rings
Amethyst Pendants
Bracelets
Earrings
Amethyst Bonsai Trees
Ornaments, carved from Amethyst.
Cufflinks
Keyrings
Garnet
Using Garnet as a Gift theme
With Garnet being the gemstone theme there is a strong leaning toward Jewelry of all types that incorporate the stone and they are therefore perfect for gifting.
There's a lot of background information on garnet. One of the most interesting facts about garnet is that it was believed that it came in every colour except blue, but in recent years there have been cases of it being blue – although it's extremely rare!
A brief history of Garnet use
The history of garnet gemstones dates back to thousands of years before the birth of Christ, in or around 3000BC as a matter of fact. During the Bronze age, people used it mainly as a symbol of love and passion by burying the dead with it. As well as this, Greeks used it in battles on their equipment. One of the main reasons why the Greeks had garnet on their equipment was because they believed that it gave protection to whoever was wearing it, along with it being a sign for passion. (which they needed in any kind of battle)
Garnet gemstones have been traditionally associated with Royalty indeed in England in the royal family used the stones within their Royal robes. Royalty that have worn garnets include Queen Victoria and Mary Queen of Scots.
Most garnets come in a colour that's quite close to red, but of course you can get them in pretty much any colour that you want. This is why garnet gemstones are associated with passion since it relates to the fiery nature of Aries.
Gift Ideas based on Garnet
Rings
Pendants
Ear Rings
Bracelets
Tumblestone Keyrings
Appropriate Flower Wedding Anniversary theme list
Calla Lilies
Calla lilies are the 6th year anniversary flower and are very understated but pretty at the same time.
Using Calla Lilies as a Gift theme
Your loved one will enjoy receiving flowers as the wedding anniversary gift and these heart-shaped petals are perfect for telling your partner just how much you love them. Women love flowers and as this is a unique and different kind of lily, it's even more special!
Gift Ideas based on Calla Lilies
Calla Lily sculpture
Bouquet incorporating calla lilies
Calla Lilies Pot Plant
6-year Wedding Anniversary Gifts for your Wife
The sixth-anniversary gift for a wife is often regarded as the most romantic one. There are many great options to choose from when it comes to selecting the perfect sixth-anniversary gift for your wife, but it is important to choose something that she will love and appreciate.
If you are looking for the perfect 6th-anniversary gift for your wife, consider a gift that is both practical and romantic. For example, you could give her a new set of cookware (made of iron) or a piece of handmade jewellery with amethyst as the central stone. Alternatively, you could opt for a more unique gift, such as an iron sculpture or an iron candle holder. Whatever you choose, make sure it is a thoughtful and unique gift that your wife will appreciate and treasure for years to come.
6th Wedding Anniversary Gifts for your Husband
The sixth wedding anniversary is a special one, as it marks the completion of one half of a full circle. It is also a good time to celebrate the many years you have been together with your spouse. If you are looking for the perfect 6th-anniversary gift for your husband, consider a gift that is both practical and romantic. What's more the gift should be something that he will appreciate and cherish for years to come.
Sixth Wedding Anniversary Gift Ideas for a Couple
With a range of themes available for the 6th anniversary it should not be too difficult to choose the perfect gift for a couple. Experience gifts are a great idea for couples, something they would both enjoy. Perhaps a trip to the local spa for some R & R. If they are adrenaline junkies what about some tickets for their favorite sports.
The 6 year Anniversary Facts and Figures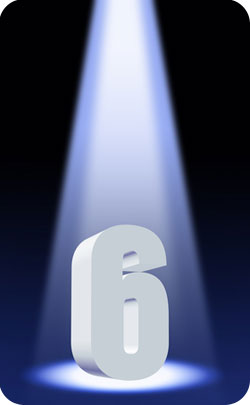 On the 6th anniversary of your marriage you would have been married for
2,190 days or
52,560 hours or
3,153,600 minutes which is over
189 million seconds!
During this time you would have shared, on average, over 16,400 hours of snuggle time (sleeping!) or about 1 year 11 months; assuming you don't work together you've been apart for over 12,686 hours which is about one year, five months. You would have by now shared about 4,700 meals together which equates to approximately 115 days of continuous eating!.
Check out how long have I been married to find out how long you've been wed.
Whatever you buy as a 6th wedding anniversary gift, make sure you choose wisely between either traditional, modern, flowers or the gemstones that are connected to this special occasion. You could choose to buy something from each theme or splash out on some special jewelry. There are many different items you could buy to show your love and appreciation for your marriage that is entering its seventh year.
What's Next
Next year, being the 7th Wedding Anniversary the traditional gift theme list suggests Copper or Wool as the appropriate gift themes. The Modern gift list suggests a Desk Set as the theme. The Gemstone Anniversary List offers Onyx and Lapis Lazuli as the gift themes with the appropriate flowers being Jack in the Pulpit.
Last year, the 5th Wedding Anniversary the traditional gift theme was Wood. The Modern gift list was Silverware. The Gemstone Anniversary theme was Turquoise and Sapphire with the appropriate flowers being Daises.