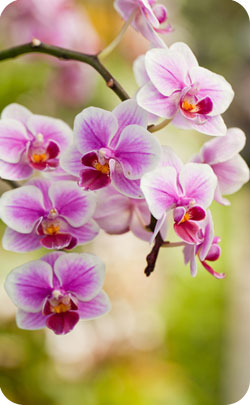 The 28th wedding anniversary might not have many traditional items or symbols attached to it, but it's your special day between you and your partner as you're heading onto almost 30 years together and that calls for a celebration. When you're thinking of what to get for a 28th wedding anniversary gift, we have a wide range of items to choose from and as you have free reign for the 28th year wedding anniversary then you can really buy your partner something they've always wanted or will cherish for many years to come.
Other wedding anniversary years have certain materials, flowers, gemstones and even modern day symbols but the only item that the 28th anniversary has is the orchid flower. Orchids are stunning flowers that grow in all different ways and have a myriad of shapes, sizes, colors and looks. One thing is consistent across the 25,000 species of orchids and that is they are beautiful to look at and your partner will adore her new orchid. They can come in hanging baskets and their roots hang down to collect moisture, or they grow submerged in water and have the most vibrant of colored petals. Whichever types or species of orchid you buy, your partner will fall in love with it.
As mentioned, there are no gemstones or traditional materials associated with the 28th wedding anniversary but take some hints from other years and buy a stunning sculpture, something made from chrome or copper or simply pamper your loved one with his or her favorite flowers, chocolates or gift items that you know that they will love. You've been with your partner for a very long time and you should know exactly what will make them happy.
The 28 year Anniversary Facts and Figures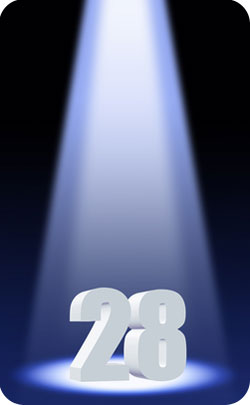 On the 28th anniversary of your marriage you would have been married for 10,220 days or 245,280 hours or 14,716,800 minutes which is over 883 million seconds!
During this time you would have shared, on average, over 76,600 hours of snuggle time (sleeping!) or about 8 years, 9 months; assuming you don't work together you've been apart for over 59,203 hours which is about 6 years, 9 months. You would have by now shared about 22,300 meals together which equates to approximately 1 year, 6 months of continuous eating!
If you're unsure of what to buy as a 28th year anniversary gift then take a look around our website and you might see something that sparks interest for you and your partner. You could do something completely different and buy a musical instrument or organize a weekend away at a spa resort or a nice hotel. You need time to yourselves to remember your wedding day, your lives from then and until now and look forward to the next 28 years together. While there might not be many traditions associated with the 28th year anniversary, that doesn't mean it's not special and with our help on our website, you can find something memorable to buy for your loved one on your 28th wedding anniversary.