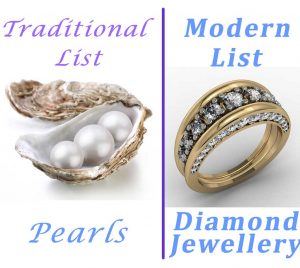 30 years of marriage is traditionally represented by the symbol of Pearls. It is for this reason that the 30th Anniversary is known as the Pearl Wedding.
Pearls have long been cherished due to their beauty and relative scarcity although nowadays cultured pearls have made them far more abundant and affordable.
Type of Pearl Anniversary Gifts
For this anniversary any type of Pearl can be used; there is more than one type. At the basic level, there are freshwater pearls and saltwater pearls. Both contain the same properties that make them desirable and nowadays they are equally attainable. One difference is the larger types are typically the saltwater variety as the shellfish they come from can grow larger.
Digging deeper, Pearls can also be natural or cultured, meaning they are grown on farms. Natural Pearls that are perfect in size, shape, and luster are the most desired. Due mainly to their rarity and thus attracted the highest prices. Cultured Pearls can still attract a high price tag if they are of good quality especially the ones from the top Pearl culturists. Nowadays, Pearls are cultured on an industrial scale so you can get Pearls in all shapes, sizes, and qualities. This makes them available for every budget.
The best known cultured Pearl producer is Mikimoto, a Japanese producer named after the founder who discovered how to grow Pearls 'on demand' back in the 19th century.
If choosing Pearl as a gift it is desirable to ensure it is real Pearl. We see many items designed with Mother of Pearl which, unless you know, can be confused with Pearls. Mother of Pearl is the shell of the mussel or oyster that can produce a pearl so it does have a connection. It will also produce the same iridescence as that of a real pearl.
Choosing the Perfect Pearl Anniversary Gift
So how do you choose the perfect gift for the pearl wedding anniversary?
When it comes to picking out anniversary gifts, it's always important to think about what the recipient will love the most. Mix this with your personality, base it on the wedding anniversary theme and you'll be on your way to getting the perfect gift.
As long as you put in some time into thinking about what they would want, you can find the perfect gift that will show them how special they are on their special occasion.
Pearl Anniversary Gifts for your Spouse
Whenever pearl anniversary gifts are mentioned the majority of people would instantly start thinking of jewelry. The traditional pearl necklace is the most often mentioned. Things have moved on within the jewelry industry, artisans have matched pearls with many other materials. A Pearl Pendant, Pearl Earrings, and for the man in your life, Pearl Cufflinks are a popular pearl anniversary gift.
Pearl Facts
The only Gemstone made by a living organism
95% of Pearls are now cultured
The name Margaret is Greek for Pearl
La Peregrina is possible the most famous Pearl in the world
Cultured Pearls type about 7 years to grow
An easy way to tell the difference between fake Pearls and real ones is that fake Pearls have a high surface shine and if you rub them against your teeth they will feel smooth, real ones feel rough.
The Modern Theme is Diamond Jewelry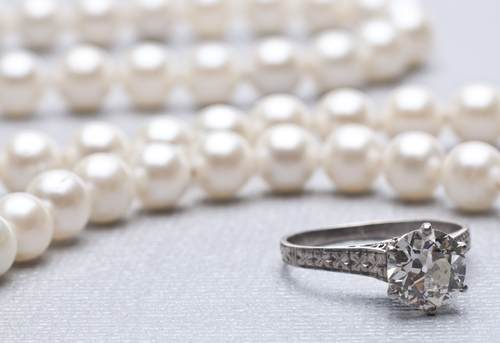 The modern wedding anniversary gifts list suggests Diamond Jewellery as the appropriate gift idea for the 30th Wedding Anniversary. There are many diamond anniversary gifts available, perhaps a diamond ring or combine it with the traditional symbol in a necklace or pendant form.
Lots of Folklore surround the diamond gemstone. It is said that it can bind a relationship, bringing love and clarity into a partnership.
Furthermore, it is said a diamond will enhance the love of a husband for his wife and is seen as a sign of commitment and fidelity which after 30 years I would have thought would be evident anyway!
Appropriate Flower is Sweet Pea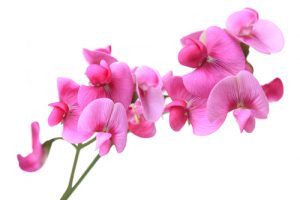 The appropriate flower for the 30th anniversary is Sweet Pea. The language of flowers states Sweet Pea can mean blissful pleasure or thank you for a lovely time! Although a delightful name, it is neither sweet nor edible! It is part of the legume family however a very distant relative from the edible varieties.
30th Wedding Anniversary facts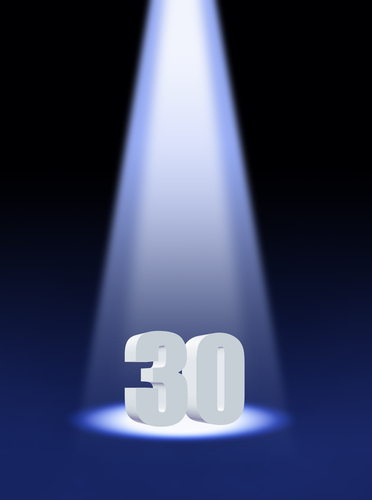 On the Pearl Wedding Anniversary, you would have been married for
10,950 days, or
262,800 hours, or
15,768,000 minutes, which is over
946 million seconds!
During this time you would have shared, on average, over 82,000 hours of snuggle time (sleeping!) or over 9 years; assuming you don't work together you've been apart for over 63,000 hours which is about 7 years and you would have had over 23,000 meals together which equates to approximately 568 days of continuous eating!
Pearl Wedding Anniversary Gifts
There are many anniversary gifts available for the 30th anniversary so we've split them into sections that revolve around the most popular gift types.
Pearl Wedding Anniversary Photograph Frames
Pearl Jewelry Gifts
Such a special anniversary is the ideal time to push the boat out with a unique gift. There are many anniversary gifts available to match the year. Pearl Earrings, necklaces, or matching sets are an obvious choice for the lady in your life. Cufflinks and watches are the best anniversary gifts for men, these are great for wearing out to your celebration event marking this significant milestone.
Pearl Pendant Gifts
There are many different options you can choose for pearl anniversary pendants, from Tahitian pearls to black pearls and everything in between!
Pearl Cufflinks
Gift Ideas for men are in a bit of short supply for this wedding anniversary however Pearl Cufflinks are a perfect accessory that matches the anniversary theme.
Watches are another traditional gift for men that may fit as a 30th-anniversary gift. Pick ones with a mother of pearl dial that gives the iridescent mother of pearl shimmer.
30th Wedding Anniversary Celebrations
So what's a fitting way to celebrate three decades of married bliss! There's no traditional formalities for the happy couple need to observe so it's down to personal choice for something that will produce the best memories of the special day. Given you've been a married couple for the past three decades you'll have a good idea of the type of event your other half will enjoy the most. Some suggestions:
Dinner Parties with a theme of Pearl or,
Go pirate, all aboard the Black Pearl!
An Indulgent Fine dining experience, with fresh oysters of course!
What's Next
Next year, being the 31st Wedding Anniversary there is no traditional gift theme assigned as the appropriate gift theme. The Modern gift list suggests Timepieces as the theme. The Gemstone Anniversary List offers no gift theme. Also there are no appropriate flowers assigned for the year.
Last year, the 29th Wedding Anniversary there is no traditional gift theme assigned as the appropriate gift theme. The Modern gift list suggests Furniture as the theme. The Gemstone Anniversary List offers no gift theme. Also there are no appropriate flowers assigned for the year.