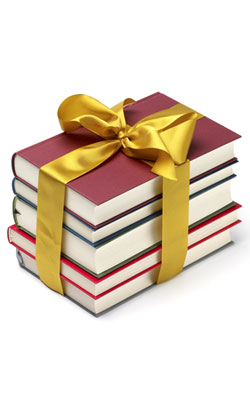 The 47th wedding anniversary deserves a fantastic celebration. Forty-seven years together is an incredible achievement and you should show your appreciation for each other with some lovely anniversary gifts for one another. There are many themes, gemstones and materials associated with other wedding anniversary years but the 47th only has one, which is the modern theme of books.
As you can see from our website, there are many books and ideas for anniversary gifts for sale that you can choose from. As you would have bought so many gifts and items in the past for your loved one over all of these you've spent together, it's a nice change to have some tradition to help you with your wedding anniversary gift ideas. Books are fantastic to buy as you can read them anywhere, you can share them and enjoy them together. If you're planning on going away for your wedding anniversary then reading some books while you're relaxing in the sun is a great way to while away the time.
While there aren't any traditional items associated with the 47th year wedding anniversary that simply means you can draw upon some ideas from our website to buy a few gifts for your wife or husband. If you wife loves flowers then you could arrange for a lovely bouquet of her favorite flowers to be delivered to your home and she'll love it!
As with all wedding anniversaries a great idea is to buy a gemstone and although there aren't any particular ones associated with the 47th year of marriage, you could buy her favorite gem whether that is a diamond, a sapphire or even a ruby. All ladies love to receive jewelry and what better day to buy her something really special than the 47th wedding anniversary.
You may think that there aren't many things to buy for your wedding anniversary but using the modern day theme of books you could buy your partner their favorite author's new book or something that reminds you both of your younger years when you first got married. As there are many reprints of older books there might just be something really special and unique to you both that you could buy online.
As you can see from our website, there are plenty of ideas for wedding anniversary gifts and as you have reached a stunning milestone of your 47th year of marriage together you should make it really special and buy a fantastic gemstone, a beautiful bunch of flowers and some books that are special to you both. Whatever you plan to do on your 47th year wedding anniversary make sure you both relax and enjoy some quality time together.
The 47 year Anniversary Facts and Figures
On the 47th anniversary of your marriage you would have been married for 17,155 days or 411,720 hours or 24,703,200 minutes which is over 1,482 million seconds!
During this time you would have shared, on average, over 128,600 hours of snuggle time (sleeping!) or about 14 years, 8 months; assuming you don't work together you've been apart for over 99,376 hours which is about 11 years, 4 months. You would have by now shared about 37,400 meals together which equates to approximately 2 years, 6 months of continuous eating!