Although the 31st wedding anniversary might not be the biggest of milestones, especially after last year's anniversary, but it's still an important day for both of you. Your 31st wedding anniversary gift is left largely up to you as there aren't any gemstones, flowers or traditional symbols associated with this year. That means that you can buy your husband or wife something really special and something that you know they will love. By showing your appreciation for each other through the medium of anniversary gifts is something very personal and it can say so much about the love that you have for each other.
Despite there are no flowers associated with the 31st year wedding anniversary, if your partner loves roses, lilies, daffodils or even orchids, then just go ahead and buy some. Fresh flowers look and smell amazing and lift the atmosphere of any room. The way they breathe and are full of life and presence make your living room or kitchen really stand out. As flowers might not last very long, you could buy something else so that you hit all your partner's favorite items on your special day.
As your wedding anniversary is so precious, you should make the most of it and buy some items that show your love for each other and keep forever. The modern equivalent or contemporary symbol or gift that is associated with the 31st wedding anniversary is a timepiece. You could get matching watches, and there are many his and hers watches available on the Internet, so you can look forward to the next 31 years together with the same watches.
The 31 year Anniversary Facts and Figures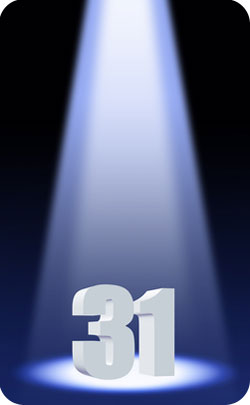 On the 31st anniversary of your marriage you would have been married for 11,315 days or 271,560 hours or 16,293,600 minutes which is over 977 million seconds!
During this time you would have shared, on average, over 84,800 hours of snuggle time (sleeping!) or about 9 years, 8 months; assuming you don't work together you've been apart for over 65,546 hours which is about 7 years, 6 months. You would have by now shared about 24,700 meals together which equates to approximately 1 year, 8 months of continuous eating!
A new watch is the perfect gift for both males and females, as you could keep it for special occasions or wear it every day depending on the type and style of the timepiece. If you're taking your wife out for a wedding anniversary meal then both wearing stunning timepieces that are the same is a great way to show your appreciation for each other and feel even more connected to each other than you already do.
Despite only having the timepiece associated with the 31st wedding anniversary, you can surely find some fantastic gifts to buy your wife or husband especially as on our website we have a wide range of gifts that are all geared around each wedding anniversary date. When you need a 31st wedding anniversary gift, take a look around and match up what your partner would love to have and just go ahead and purchase it!