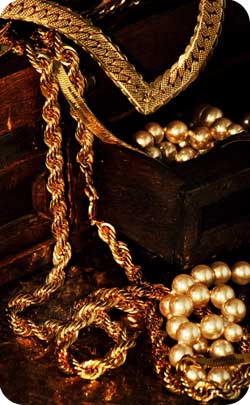 Congratulations should be forthcoming to any couple on reaching the 50th year wedding anniversary. It's really something to celebrate as spending half a century married is momentous. As a couple, you should both make the most of this special day and buy each other some wedding anniversary gifts.
Along with most of the other wedding anniversary years, there are certain symbols, items, flowers, and materials that mark the celebration. As the 50th wedding anniversary is so important, the selected theme of gold is certainly fitting.
Here are some golden anniversary gift ideas to get you started:
Gold jewelry is a classic present for any 50th wedding anniversary and something that the couple can wear and treasure for years to come. Jewelers will often have special collections or ranges for golden anniversaries so it's easy to find something unique and beautiful.
A gold watch is another timeless gift option and can be a really special keepsake that the couple can use to track the progress of their anniversary year.
If you're looking for something a little less traditional, how about a gift certificates for a luxury hotel stay or a weekend away in a beautiful location? The two of you can spend some quality time together and celebrate your golden anniversary in style.
Gold coins or bars make for a really unique gift ideas and can be stored as a special commemorative item. You could also frame a picture of the two of you from your wedding day to complete the present.
Why not go with something completely different and get the couple a gift certificate for a spa day of pampering? They can enjoy some relaxation and luxury treatment to celebrate their 50th wedding anniversary in style.
Whatever golden anniversary gift you choose, make sure it's something that the happy couple will really appreciate and that'll remind them of your love and commitment to them. Congratulations on this momentous occasion and have a wonderful 50th wedding anniversary!
Golden Wedding
Your Golden Wedding, to give it its formal name, is both gold for the traditional and the modern theme. As gold has such a stunning look and can be used in many ways you shouldn't have difficulty finding the perfect 50th wedding anniversary gift for them. Gift guides vary this anniversary. The traditional gift for the 50th wedding anniversary is gold, the modern gift guide suggests gold jewelry. What better way to impress your loved one with some earrings, a ring, or even matching watches for each other.
It's obvious that the precious material that is associated with the 50th wedding anniversary is gold but it also replaces the gemstones that are normally connected with a wedding anniversary. This means that you can have a gold-themed day and spend time together with gold being used throughout.
Indulgent Dining
Did you know gold leaf is edible! When else is more appropriate than the 50th anniversary with the gold theme. You could have a nice meal with gold leaf making an appearance. Many fine dinning restaurants would be able to tailor a special meal if asked. Especially if its a large family occasion.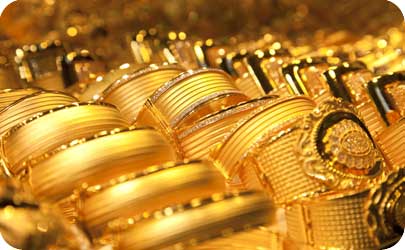 Whatever you buy that is gold as a 50th anniversary gift you can be assured that your spouse will adore it and as we have a great range of wedding ideas and gifts to buy through our website you won't have to spend too much time thinking about it. You might not opt for jewelry, as your partner might prefer coins, and a gold coin for your anniversary gift would be perfect. There are thousands of ideas for golden anniversary gifts that you could choose from.
What are the appropriate flowers for the Golden Anniversary?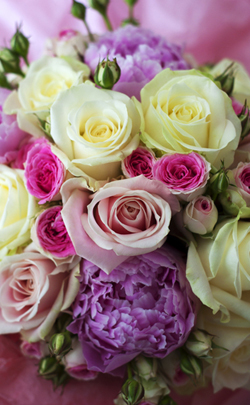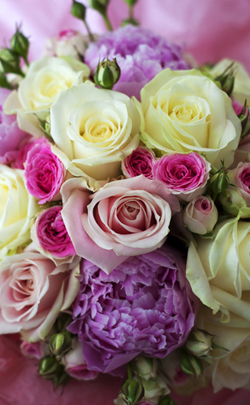 As with other wedding anniversaries, there are flowers connected to the golden anniversary. That means you can buy flowers online and have them delivered to your door. The flowers for the golden anniversary are Violets, which appear most in plant form. With their stunning colors and unique look, you can impress your partner with a lovely array of violets.
Also, there is a wide variety of Roses named especially for the gold wedding anniversary. These are typically yellow roses most suited for planters and would make a great gift.
Choose from our wonderful selection of gift ideas on our website and make the most of your special date together.
The 50th Wedding Anniversary Facts and Figures
On the 50th anniversary of your wedding day will have been together for:
18,250 days, or
438,000 hours, or
26,280,000 minutes, which is over
1,576 million seconds!
During this time you would have shared, on average, over 136,800 hours of snuggle time (sleeping!) or about 15 years, 8 months; assuming you don't work together you've been apart for over 105,720 hours which is about 12 years, 1 month. You would have by now shared about 39,800 meals which equate to approximately 2 years, 8 months of continuous eating!
One of the most celebrated Wedding Anniversaries
The gold wedding anniversary is one of the most celebrated wedding anniversaries. It is one of the oldest marriage life events recorded in history. Half a century also equates to a jubilee year which occur every 25 years and had significant symbolism in married life.
A traditional gift in olden times was to present your wife a golden wreath in the form of a headdress. This was often a prelude to a celebration with family members and friends of the special couple. Obviously the couple are the guests of honor with the host of the party being a family member. If they are lucky enough to have children then one or all could host it. If not then typically a sibling would step up.
Golden Anniversary Gift Ideas
There are so many golden anniversary gifts to choose you may feel overwhelmed and struggle to find the perfect gift! Fear not, we can help you choose that special gift that will bring joy to the couple celebrating their anniversary.
Personalized Golden Anniversary Gifts
There are so many companies producing personalized gifts nowadays you'll be able to make the gift truly unique by adding your own special message to the gift.
50th Anniversary Gifts for your parents
Your parents are probably reaching that age where they are starting to think about their 50th wedding anniversary. If they have not already started planning then it might be a good idea to get them a few ideas.
Firstly you need to decide if you are going to buy a individual gifts for both of them. If you have a great gift idea based upon their hobby or past times then an individual gift each may be the way to go.
Not sure what to buy for each of them, then maybe a joint gift is the perfect way to celebrate. Try and think about things that they have on their bucket list that you can help them achieve. Their 50th wedding anniversary celebration would be a great opportunity to surprise them with such a gift.
One example might be if your parents love to travel, but have never been to Asia. Then maybe a trip to Japan or China would be the perfect gift. You could also think about something they have always wanted to do. Like climbing Mount Kilimanjaro or taking a luxury cruise around the world.
If your parents are not the adventurous type, then maybe getting them a new car, or renovating their home might be the way to go. No matter what you decide to do, make sure it is something that they will appreciate and enjoy for their 50th wedding anniversary.
A gift for a loved one's golden wedding anniversary should be something special, and the couple should feel appreciated on this momentous occasion. separately
Gold Wedding Anniversary Vows Renewal.
The 50th Anniversary may be the appropriate milestone to renew your wedding vows. This means that you would reaffirm your commitment to each other as husband and wife in the eyes of god. This would be also be a great time to get new gold wedding bands. You would exchange the rings at the ceremony and would be receive a blessing at the same time.
Most churches can give advice on wedding vows renewals. They follow very similar lines to a traditional wedding. You can skip not seeing your spouse on the night before if you want though!
Traditionally a celebration after the ceremony also happens so all your family and friends come together to celebrate.