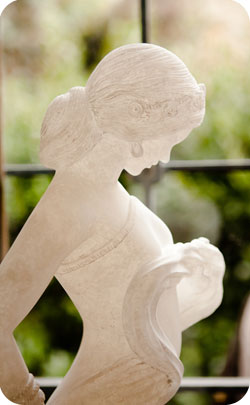 You're fast approaching your 40th year of being married, but for now, the 37th wedding anniversary is something to celebrate as you've been with each other for almost a lifetime. You know what your spouse likes and wants and you'll have a few ideas of what to get. We have a great range of products, items, jewelry and flowers for you to add to your list of things to buy and if you're struggling for ideas then take a look around.
The 37th year wedding anniversary gift does not have themes, symbols or items associated with it, unlike the earlier anniversary years but that simply means you have free reign of what to buy. You can see from our website that we have some stunning pieces that you could buy and give you some ideas of what to buy for a wedding anniversary gift.
Earlier wedding anniversary years have a variety of traditional items, gemstones and flowers connected to them but the 37th wedding anniversary gift does not have to be those. You could choose to buy a bouquet of flowers and some jewelry with a rare gemstone, or you could buy something really memorable to hold photographs in.
Whatever you buy make sure it is lovely, shows just how much you think of your partner and that it is truly special. Buying wedding anniversary gifts is unlike any other gift purchase as it's only you and your spouse that celebrate it. You can think back to many years of happiness and experiences, therefore getting away for the weekend might be a great idea. If you browse our website you'll see there are many different options and ideas you could mix together to make the 37th year wedding anniversary gift really special.
The only item that is associated with the 37th wedding anniversary is alabaster, which is a stunning yet fragile material made from calcite and gypsum. It is usually used in the making of glass-looking lamp shades and gives a wonderfully soft and generous glow to lamps. You could buy a pair of alabaster lamps for your living room so you can enjoy the warm glow on an evening while you snuggle up together. Many artists use alabaster for their artworks as it is gives depth to the item with its opaqueness and is quite unique too.
As you can see, there might be other anniversaries that have more items associated with them but the 37th wedding anniversary gift can be anything you want it to be. We have listed a fantastic array of items on our website so you can draw inspiration for your gift purchases.
The 37 year Anniversary Facts and Figures
On the 37th anniversary of your marriage you would have been married for 13,505 days or 324,120 hours or 19,447,200 minutes which is over 1,166 million seconds!
During this time you would have shared, on average, over 101,200 hours of snuggle time (sleeping!) or about 11 years, 7 months; assuming you don't work together you've been apart for over 78,232 hours which is about 8 years, 11 months. You would have by now shared about 29,500 meals together which equates to approximately 1 year, 12 months of continuous eating!