It's the 4th wedding anniversary, and time to start thinking about what gift to give your loved one to celebrate this special occasion! What do you get for a 4th-anniversary present? Fruit & Flowers or Books are the traditional gifts, while Electrical Appliances are the modern gift. gemstones associated with the 4th anniversary are Amethyst and Topaz. The flowers traditionally associated with the 4th anniversary are Geraniums.
Traditional Wedding Anniversary Gift List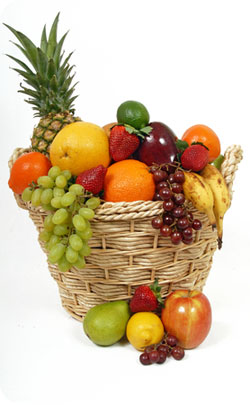 The traditional anniversary gift theme for the 4th wedding anniversary gift are Fruit & flowers or Books. This shows that there is a freshness, a groundedness and a solidarity between you, and the Fruit & flowers show life and fulfilment between you. Flowers and fruit are connected as they both grow over time and that is how your love grows stronger as the years pass.
Fruit & Flowers
Using Fruit & Flowers as a Gift theme
With the traditional gift for the fourth anniversary being fruit or flowers, so it's no surprise that this theme makes a great gift idea. You can use it in a number of ways. One of the ones we like the most is to match it with the year, so you could get fruit baskets where all fruits are in groups of 4 e.g. 4 apples, 4 oranges, 4 lemons etc. You can also do this with a flower arrangement so each different flower is supplied in groups of 4.
Gift Ideas based on Fruit & Flowers
A Bouquet of Flowers: A beautiful bouquet of flowers is always a welcome gift, and it's sure to put a smile on your spouse's face. Roses are always popular, but you could also consider getting a bouquet of geraniums—the flower associated with the fourth anniversary.
A Basket of Fruit: If you want to stick with the traditional fruit and flower theme, a basket of fruit is a great option. You can find baskets filled with all kinds of fruits, from apples and oranges to more unusual options like pineapples and grapefruit.
Books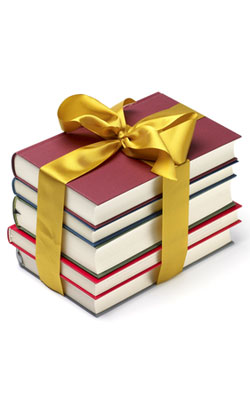 Books are an alternate traditional symbol for the 4th Anniversary. There are several lists that claim to be the 'official' traditional wedding anniversary gift list. This year, two different materials were shown from different lists.
Using Books as a Gift theme
Books are timeless gifts that people can enjoy for years to come. Not only do they make great gifts, but they can also be used as decorations in the home.
There are many different types of books out there that you can give as a gift. You can choose from fiction and nonfiction books, puzzle books, coloring books and more. If your spouse loves to read, they will appreciate having new books to read.
If you want to get creative with your book gifts, consider buying an old book from a secondhand store and re-gifting it with a new cover or title page. The person who receives it will think that you bought them something special because it was personalized just for them!
Gift Ideas based on Books
If you're not sure what type of book to get for your spouse's 4th wedding anniversary, here are some ideas:
A classic novel like Romeo & Juliet or Pride & Prejudice by Jane Austen
A biography about their favorite band or musician (or even about themselves!)
A cookbook filled with recipes from their favorite restaurant or cafe (this is especially good if they love cooking!)
A science fiction novel
For the guy who loves to read, consider giving him a Kindle e-reader loaded with his favorite books if they're not got one. Or, if he's more of a physical book kind of guy, pick up a couple of hardcover editions of his favorite authors or a coffee table book on his favorite hobby or interest. If you want to get really personal, have a custom book made just for him – there are companies that will create personalized books based on information you provide about your relationship, complete with photos and your own love story.
A book is a gift that keeps on giving. You can give a book as a wedding anniversary gift, and it will be cherished throughout the years. It's perfect for couples who love to read or who want to start a new tradition of reading together.
More Book Gift Ideas
Consider giving your partner one of the following books as a wedding anniversary gift:
A Novel Set in Your City: This will let your partner know that you think about them when you're away from home. If you don't know what book to get, ask friends or family members for suggestions. They'll be sure to have some ideas!
A Book About Your Relationship: Finding the right book may take some time, but it will be worth it when your partner opens it up and sees an inscription from you inside. It's also nice if you can find something that relates directly to your relationship — maybe a story about how you met or how things have changed since then.
An Anthology on Marriage: If your partner loves reading about marriage, there are many anthologies out there on the subject of marriage and relationships themselves. An anthology could cover everything from relationships in science fiction novels to those in historical fiction novels; there are even anthologies devoted solely
What is the Symbol for 4 years of marriage?
The number four is a lucky number associated with stability and security. As such, it's a good choice for any anniversary that deals with family or your relationship with your partner.
The symbolism of the number four is also linked to the four seasons and the four directions. The four seasons represent change and renewal, which are essential elements in any marriage. The four directions represent stability, which is another important aspect of marriage.
The symbol for the 4th wedding anniversary is actually based on the traditional gift theme. In this instance, Fruit & Flowers.
Modern Wedding Anniversary Gift List
Electrical Appliances
The Modern Wedding Anniversary Gift List shows electrical appliances as the appropriate gift. Electrical appliances are extremely popular and a safe choice for your wedding anniversary.
Using Electrical Appliances as a Gift theme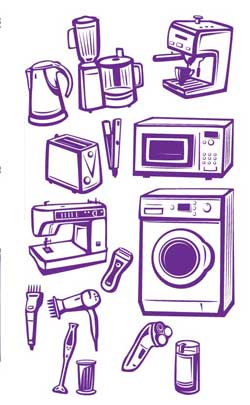 The most common electrical appliance gifts are Kitchen Appliances – This includes everything from blenders to coffee makers; anything that makes cooking easier in the kitchen is worth considering as an anniversary gift idea!
For a more modern take on the fourth-anniversary gift, consider cutting edge electrical appliances. This could be anything from a new blue tooth coffee maker or mixer to a set of smart electric toothbrushes. Appliances are sure to be appreciated—especially if they make your spouse's life easier!
Try to avoid electrical appliances that are associated with chores unless you know your spouse would love it. We mean things like Washing Machines, Clothes Irons Tumble Dryers etc.
Gift Ideas based on Electrical Appliances
Coffee Makers
Slow Cookers
Waffle Maker
Soup Maker
Food Processor
Blender
Electric Toothbrush
Shavers/ Epilators
Televisions
Surround Sound System/Sound Bar
Video Doorbells
Gemstone Wedding Anniversary Gift List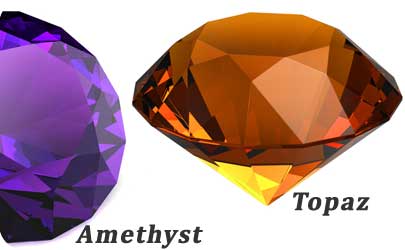 Amethyst
Amethyst is a purple variety of quartz that has been used for centuries as a gemstone, and some believe, for its healing properties. There are many different types of amethyst including purple, lavender, pink, white and yellow. Amethyst is said to have healing properties that can help people who have trouble sleeping or are stressed out. The ancient Greeks believed that amethyst could prevent intoxication when worn as jewelry or carried in your pocket. Amethyst is also said to promote patience and spirituality while helping improve memory and concentration.
Using Amethyst as a Gift theme
For your wife and with the gemstone associated with the 4th wedding anniversary it is a natural gift choice. So why not give her a piece of jewelry featuring this beautiful stone? Whether you opt for a necklace, earrings, bracelet, or ring (or all of them!), she's sure to appreciate the thoughtfulness of this gift. You can find amethyst jewelry at most major jewelry stores – try browsing online to see what's available before heading out to shop. And don't forget to keep the receipt in case she wants to exchange it for something else!
For men there are still options available if you would like to commemorate your 4th anniversary with Amethyst. An Amethyst Church or Cathedral and be a great statement piece or alternatively at the other end of the scale you can get simple keyrings containing amethyst.
Gift Ideas based on Amethyst
Amethyst Church/Cathedrals
Eternity Rings
Amethyst Pendants
Bracelets
Earrings
Amethyst Bonsai Trees
Ornaments, carved from Amethyst.
Cufflinks
Keyrings
Topaz
The color of topaz is yellowish-green (also known as Imperial Topaz) or bluish-green and it symbolizes hope, love and affection in this case. If you want to give them a present that will remind him of your love for one another, then this is definitely a great choice. You can get them a necklace or ring made from topaz as well as other jewelry items such as earrings and bracelets.
Using Topaz as a Gift theme
The color of topaz ranges from pale yellow to deep blue and even browns, oranges, reds and greens. The topaz most commonly used in jewelry is a copper variety, which has the same hardness as quartz or sapphire. However, some topaz is harder than sapphire or diamond.
Topaz is the birthstone for November and the anniversary stone for the 4th wedding anniversary. It has been said that if you wear topaz jewelry on your 4th wedding anniversary, it will bring good luck to your marriage.
Topaz symbolizes loyalty, friendship and fidelity. It's also considered to be a stone of good fortune, which makes it an ideal gemstone for your special day. If you're looking for something more sentimental, consider getting your loved one a pendant engraved with the word "faithful" or another word that reflects your love.
Gift Ideas based on Topaz
Anniversary Band Rings
Brooches
Topaz Pendants
Bracelets
Topaz Colored Cocktail Ring
Earrings
Cufflinks
Keyrings
Appropriate Flower Wedding Anniversary theme list
Geraniums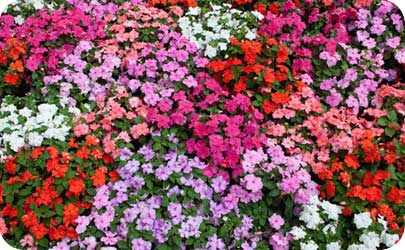 The flower traditionally associated with the fourth wedding anniversary is geraniums. These are also often known as Cranesbills.
Using Geraniums as a Gift theme
You can give them a bouquet of fresh geraniums or order an arrangement from a florist that includes geraniums along with other flowers they love. Or alternatively, you could get them a potted geranium plant that she can keep in their home or office – just make sure they don't have allergies first!
Gift Ideas based on Geraniums
Fresh Bouquet incorporating geraniums
Pot Plant of Geraniums
Geranium scented candles
Reed Diffusers with a Geranium scent.
4-year Wedding Anniversary Gifts for your Wife
We've put together some great 4th-anniversary gift ideas and shopping tips to help you find the perfect gifts for your wife. The best part is, these gifts center around themes so you'll know exactly what to get. As you can see from the gift themes available for the 4th anniversary they are all suitable for finding some great gifts for your wife.
Whatever gift you choose for your wife on your fourth wedding anniversary , try to make it something that shows how much you care about her and your relationship . A heartfelt card expressing your love and appreciation will also go a long way !
4-year Wedding Anniversary Gifts for your Husband
As with most years the gift themes tend to sway toward the feminine side however we do have some great ideas for your husband.
Fruit & Flowers: A bouquet of fresh flowers is always a welcome gift, and you can't go wrong with classics like roses or tulips. For something a little different, try an edible arrangement delivery – they have fruit bouquets in all sorts of shapes and sizes, including ones that look like footballs, hearts, and even cars! Or, if you're feeling creative, put together a fruit & flower basket yourself – fill it with his favorite fruits and flowers, along with a bottle of champagne or wine and some gourmet chocolates.
Electrical Appliances: Television sets remain one of the most popular 4th wedding anniversary gifts for him – after all, what guy doesn't love watching sports or movies in high definition? If he's not into sports or movies, though, there are plenty of other options out there. Think about practical items like blenders (great for making smoothies), hair trimmers (handy for those impromptu haircuts), or electric toothbrushes (perfect for keeping those pearly whites shining). For something a little more luxurious, look into massage chairs or home theater systems. Whatever you choose, just make sure it's something he'll actually use!
Fourth Wedding Anniversary Gifts for a Couple
Finding the right gift for a couple on their 4th wedding anniversary could be a real challenge. There are so many great 4th wedding anniversary gifts which can make choosing even more difficult. Unusual gifts are often the best gifts. We've ideas for different options of gift-giving depending on whether you also want to include or just send as a stocking filler inside the cards. I hope this guide helps with your quest for that perfect wedding anniversary gift!
We hope these 4th wedding anniversary gift ideas have inspired you! No matter what your budget is, there's something on this list that will make your partner smile on their special day.
What's Next
Next year, being the 5th Wedding Anniversary the traditional gift theme list suggests Wood as the appropriate gift theme. The Modern gift list suggests Silverware as the theme. The Gemstone Anniversary List offers Turquoise and Sapphire as the gift themes with the appropriate flowers being Daises.
Last year, the 3rd Anniversary the traditional gift theme was Leather. The Modern gift theme was Glass and the gemstone gift theme was crystal. The appropriate flower was Fuchsia.