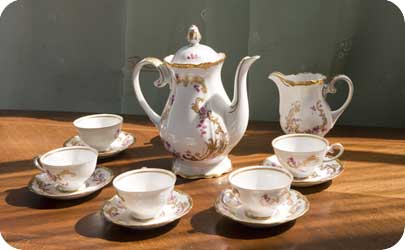 We've been updating the gift ideas for our anniversary suggestions and wanted to clarify what the difference is between China, Pottery, Porcelain and Bone China. Each of these is a different wedding anniversary symbol.
Pottery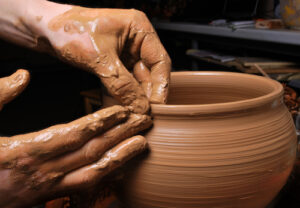 Pottery (Traditional 8th Wedding Anniversary gift symbol) is a very generic term. It is generally used to refer to items made from clay. Within this context, we think it refers to handmade items by the artisan, or craftsperson using their hands, moulds, or a potter's wheel.
China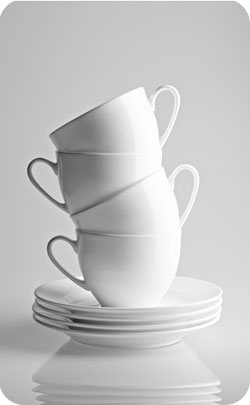 China, Traditional 20th Wedding anniversary gift symbol. In this context, it refers to dinnerware coming out of the country of China which is particularly fine and generally with a white base. The mineral Kaolin is used to achieve this look. When originally defined the china symbol inferred good quality products and not the cheap mass-produced items that china produces nowadays. You can still find good quality china products in good quality stores.
Bone china
Bone china, which is a generic term as it has bone ash added to the clay and was the English response to china's high-quality porcelain exports. Its characteristics give it whiteness and translucency which is often considered better than Chinese porcelain. However, its high manufacturing costs have always kept it in the luxury market rather than the broad spectrum some porcelains enjoy. Originally developed by Wedgewood the name is still synonymous with Bone China today.
Porcelain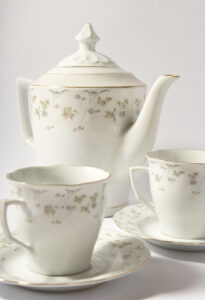 Porcelain (Modern 18th Wedding anniversary gift symbol) refers to high-quality ceramics typically originating from the China region. Kaolin is used in manufacturing. It is usually delicate however it is also somewhat resilient to knocks and rough use. With good-quality Porcelain, you should be able to see the shadow of your fingers if you hold it up to the light with your fingers behind it.