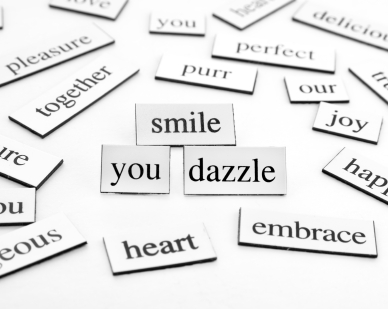 A wedding anniversary is traditionally a time to celebrate the joy of a marriage, but more and more these days people are trying to divorce before the gold has even worn off their wedding rings. Thankfully, for those couples that have made it through some of the toughest times in their love lives and those that are hoping to last forever, here are some inspirational messages to help you find the right words on your wedding anniversary.
A successful marriage requires falling in love many times, always with the same person. – Mignon McLaughlin
A wedding anniversary is the celebration of love, trust, partnership, tolerance and tenacity. The order varies for any given year. – Paul Sweeney
Anniversary is the day you remember that both of you committed to a lifetime of love and relationship. Cheers then for remembering!
Being deeply loved by someone gives you strength, while loving someone deeply gives you courage. – Lao Tzu
Chains do not hold a marriage together. It is threads, hundreds of tiny threads, which sew people together through the years. – Simone Signoret
Every year with you is sweeter than the last. You are my endless love.
Grant me a sense of humour, Lord. The saving grace to see a joke, to win some happiness from life, and pass it on to other folk. – Old Irish toast
All my love for you free. Wishing you a very happy anniversary!
Hoping that the love you shared years ago, is still as strong today. Then bringing you much joy, love and happiness to celebrate again.
If I know what love is, it is because of you. – Herman Hesse
It's not where you go or what you do, it's who you take along with you.
I'm as happy as a Frenchman who's invented a pair of self-removing trousers – Prince George, Blackadder III
Have a happy anniversary. A day that's filled with fun. And remember the day that you two became one!
I've learned that you can't make someone love you. All you can do is stalk them and hope they'll panic and give in. – Emo Philips.
Let us celebrate the love we share, and the days that we will keep loving each other till the end.
Life's greatest happiness is to be convinced we are loved. – Victor Hugo
Love brought you together as husband and wife, and gave each of you a best friend for life.
Love does not consist of gazing at each other, but in looking together in the same direction. – Antoine de Saint-Exupery
Love is composed of a single soul inhabiting two bodies. – Aristotle
Love is much nicer to be in than an automobile accident, a tight girdle, a higher tax bracket or a holding pattern over Philadelphia. – Judith Viorst.
Love is the condition in which the happiness of another person is essential to your own.
Love one another and you will be happy. It is as simple and as difficult as that. – Michael Leunig
Love seems the swiftest, but it is the slowest of all growths. No man or woman really knows what perfect love is until they have been married a quarter of a century. – Mark Twain
Many special memories shared, Many more memories to make.
Marriage is a three ring circus: engagement ring, wedding ring, and suffering. – Anonymous
Marriage is a work in progress with a lifetime contract. – Phyllis Koss
Marriage is that relation between man and women in which the independence is equal, the dependence mutual, and the obligation reciprocal.
Marriage isn't that big a deal any more 'cause it's so easy to get divorced. You want commitment? Buy a house. Nothing says love like thirty years of debt together. – Tom Pecora.
Married couples who love each other tell each other a thousand things without talking. – Chinese Proverb
Marry me and you'll be farting through silk for the rest of your life – Robert Mitchum.
May love continuously rule your relationship, as you rule each other with patience and care. Wishing you a lifetime of wonderful years together.
May today be filled with happy memories of the past and bright hopes for the future.
Nothing in this world could ever be as wonderful as the love you've given me. Your love makes my days so very bright, just knowing you're my darling wife.
On this our anniversary, we may not have wealth, but we do have each other and that is worth more than all the money in the world. – Catherine Pulsifer
Our wedding was many years ago. The celebration continues to this day. – Gene Perret
The goal of our life should not be to find joy in marriage, but to bring more love and truth into the world. – Leo Tolstoy
The highest happiness on earth is marriage. – William Lyon Phelps
The minute I heard my first love story I started looking for you, not knowing how blind that was. Lovers don't finally meet somewhere. They're in each other all along.
The secret of a happy marriage remains a secret. – Henry Youngman
The secret to having a good marriage is to understand that marriage must be total, it must be permanent and it must be equal. – Frank Pittman
There is no feeling more comforting and consoling than knowing you are right next to the one you love.
There is no more lovely, friendly and charming relationship, communion or company than a good marriage.- Martin Luther
To the beautiful couple in all the land, May your anniversary be Happy and Grand.
To the couple who found love and live with it.
True love stories never have endings. – Richard Bach
Two souls with but a single thought, Two hearts that beat as one. – Friedrich Halm
Where there is love there is no darkness. – Burundi Proverb
You don't marry someone you can live with. You marry the person who you cannot live without.
Your love makes my days happy and bright. Into my world you brought pure delight. Joy beyond reason you've given me. Our love is true, this I can see.
I hope that you enjoyed this collection of love quotes and sayings. I tried to include a wide variety of different types of quotes, so hopefully there is something here for everyone. If you have any other suggestions please feel free to leave a comment below..