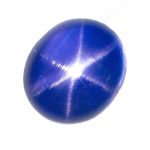 The 65th Wedding Anniversary does not have a traditional gift theme. After 50 years the traditional gift themes tend to occur on Jubilee years only, so 75th will be the next anniversary. Likewise the Contemporary or Modern anniversary list shows that there are no 65th anniversary gift themes. Furthermore there are no flowers associated with the 65th anniversary.
The Gemstone list shows Star Sapphire as an appropriate gift theme for the 65th Anniversary. Star Sapphire is a Six Ray star naturally occurring gemstone. It is most often cut and polished as a Cabochon style stone to emphasise the star shape. It is in the same family as the well know blue sapphire. Some people believe sapphire to be the wisdom stone. It is available in different colours with the Blue Sapphire being the most prized and well known.
Star Sapphire is widely available although naturally occuring star sapphire commands the higher prices with gem quality stones being the most expensive. Synthetic stones are often used and sometimes care is needed in identifying these stones
65 year Wedding Anniversary Facts and Figures
On the 65th anniversary of your marriage you would have been married for
23,741 days, which is
569,784 hours or
34,187,040 minutes; making a total of
2,051,222,400 seconds.