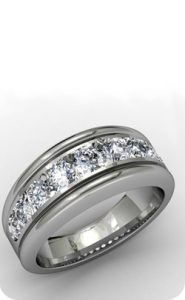 60 years of marriage in this day and age is a major achievement worthy of a commeration or celebration. Given the gravitas that rightly surrounds the 60th Anniversary the theme for this milestone is marked by the symbol Diamond. Therefore, you'll also hear it called the Diamond Wedding.  This Wedding Anniversary does not have any Flowers associated with it.
With Diamonds being the world's most prized gemstone it's possible that a couple who have been married for six decades will also be highly valued within the family.
We see a lot of gift purchases for 60th wedding anniversaries especially when you consider how old both partners would have to be to be celebrating their Diamond Wedding
There's a saying for those who care celebrating the Diamond Wedding and that is "You must have married a right gem to celebrate the Diamond Anniversary"
Originally 60 years of marriage did not have the Diamond associated with the celebration. In victorian times it was decided to celebrate the english's Queen Victoria's 60 years as monarch and it was designated as the Diamond Jubilee. This stuck and within the english speaking world spread, thus the sixtieth wedding anniversary became the Diamond Wedding Jubilee.
Lots of Folklore surround the Diamond gemstone. It is said that it can bind a relationship, bringing love and clarity into a partnership.
Furthermore it is said to enhance the love of a husband for his wife and is seen as a sign of commitment and fidelity which after 60 years I would have thought would be evident anyway!
60 year Wedding Anniversary Facts and Figures
On the 60th anniversary of your marriage you would have been married for
21,901 days, which is
525,624 hours or
31,537,440 minutes; making a total of
1,892,246,400 seconds.