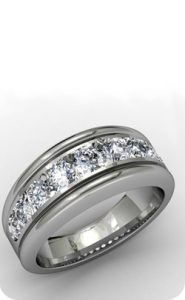 60 years of marriage is an accomplishment so immense it deserves to be celebrated or commemorated. If you're one such couple celebrating your Diamond Anniversary, then rest assured that this will mean something very special in both parties' lives because few people have been able to reach such a milestone without any children at all–let alone grandchildren!
This makes their experience even more valuable than most other anniversaries out on the market today since no matter what else changes around us-the value always remains constant: dependability."
The symbol of eternal love, diamonds are not just a girl's best friend; they're also the world's most prized gemstone. And it doesn't matter if you've been married for 60 years or 6 decades – your wedding anniversary will always be celebrated with gifts in honor to celebrate this milestone!
We see a lot of gift purchases for 60th wedding anniversary especially when you consider how old both partners would have to be celebrating their Diamond Wedding
There's a saying for those who care celebrating the Diamond Wedding and that is "You must have married a right gem to celebrate the Diamond Anniversary"
Origins of the Diamond Commemoration
Originally 60 years of marriage did not have the Diamond associated with the celebration. In Victorian times it was decided to celebrate the English Queen Victoria's 60 years as monarch and it was designated the Diamond Jubilee. This stuck and within the English-speaking world spread, thus the sixtieth wedding anniversary became the Diamond Wedding Jubilee.
Diamond Folklore
Lots of Folklore surround the Diamond gemstone. It is said that it can bind a relationship, bringing love and clarity into a partnership.
Furthermore, it is said to enhance the love of a husband for his wife and is seen as a sign of commitment and fidelity which after 60 years I would have thought would be evident anyway!
60 year Wedding Anniversary Facts and Figures
On the 60th anniversary of your marriage you would have been married for
21,901 days, which is
525,624 hours or
31,537,440 minutes; making a total of
1,892,246,400 seconds.