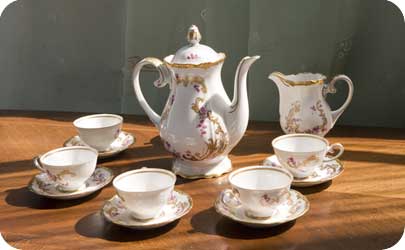 The Modern Wedding Anniversary list shows China as being the theme for the 2nd year anniversary.
A 2nd anniversary gift is traditionally cotton but the modern symbol is china. This means that you can buy your loved one a lovely vase, personalised mug or figurines, and as china gives a sense of beauty and elegance, it will take you nicely into the third year of your marriage.
Personalised china wares are a great way to remember your wedding day for many years to come. As each year the wedding anniversary gifts will become more lavish and more unique, you can collect a whole range of new and exciting gifts between yourselves. The joy of confirming and affirming the wedding day, two years later, is something that all couples will relish and even on the run up to the 2nd anniversary day, searching for gift ideas and picking out presents is a fun time for both.
Whether you go down the traditional route with cotton or stick with the modern china notion, picking out an anniversary gift is something that you could do together. If there is a china or porcelain gift set that you can both enjoy then there is no harm in selecting it together and get two smaller presents as a surprise for each other.
Weddings and marriages are some of the biggest and most important moments in many people's lives. There is usually months or years of planning, all combining on getting every last detail right on the same day takes it's toll. It's hard work but afterwards the fulfilment of knowing that you and your loved one will be together forever is irresistible. Confirming by law that you are destined to be together is something that all couples cherish, and therefore it is obvious that purchasing a token each year to remember that day is just as special.
The 2nd anniversary for married couples can be tricky to find a great present that is made from china, but fear not, there are many options that can make your lives easier. Although china is a modern symbol, it is also a very traditional present to give and to receive. With cookware or china accessories for your marital home, it can be not only beautiful but useful too.
If you're looking for some really unique gift ideas, then think outside the box and get something made from china for the 2nd anniversary that is personalised or has a dedicated message to your husband or wife. This way, the anniversary gift can be kept for ever and ever, and will mean so much to both. Having a collection of wedding anniversary gifts from your 1st and 2nd anniversary and beyond will make you look back on your lives together and let you enjoy each and every year individually, especially as you have a perfect gift to remember each one..
Famous Chinaware Manufacturers: Spode, Wedgewood, Moorhouse, Royal Crown Darby.